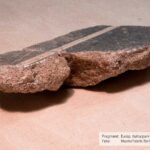 The online magazine for Homburg and the region – HOMBURG1 reported on the DigiGlue project on August 21, 2020. HOMBURG1 quotes Michael Ecker, archaeologist and excavation director of the European Cultural Park Bliesbruck-Reinheim:
"Wir werden in der Lage sein, mit Hilfe dieses High-Tech Systems digitale Zwillinge der einzelnen Fragmente zu erstellen, um sie dann wie ein Puzzle zu behandeln."

Michael Ecker, "Projekt "DigiGlue"- Erforschung und Bewahrung des wissenschaftlichen und kulturellen Erbes", Homburg1, 21. August 2020.