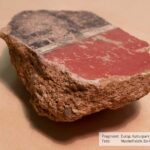 Presentation of the pilot project DigiGlue in line with the focus "new non-invasive methods" of the Hornemann Institute.
From April 27 to 30, 2022, Brandenburg an der Havel hosted the interdisciplinary conference "Non-Invasive! New Perspectives in the Research and Restoration of Wall Painting Thanks to Digital Techniques" of the University of Applied Sciences and Arts (HAWK) Faculty of Building and Conservation and the Hornemann Institute in cooperation with the Brandenburg State Office for the Preservation of Historical Monuments and the Archaeological State Museum as well as the Brandenburg Cathedral.
Dipl.-Ing. Jan Schneider from the MusterFabrik Berlin gave a presentation along with Dipl. Rest. Nicole Kasparek from the Landesdenkmalamt Saarland gave a lecture entitled: "Pilot project DigiGlue: An assistance system for the digital reduction of wall painting fragments as a companion to restoration using the example of the provincial Roman finds from the European Cultural Park Bliesbruck-Reinheim".